3M™ Internal MiniSAS HD to Internal miniSAS 36-Position
Hybrid Cable Assembly, 8U Series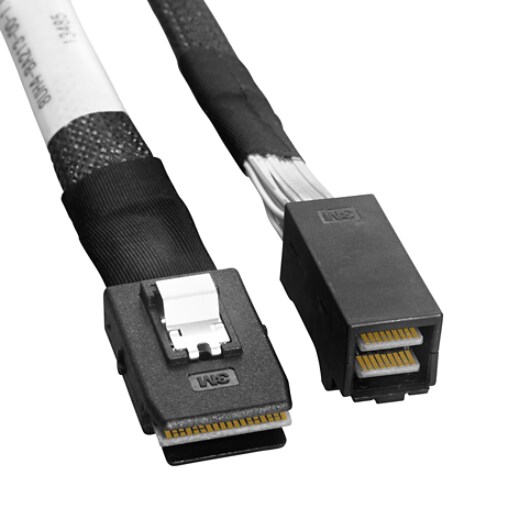 3M™ is releasing internal hybrid assemblies, with miniSAS HD (SFF-8643) on one end and miniSAS 36-position (SFF-8087) on the other. These assemblies use the popular 3M™ Twin Axial Cable SL8800 Series. The low-profile ribbon design of the 3M™ Twin Axial Cable allows for greater density applications and lower airflow obstruction. The cable's bendability allows for higher routing freedom in high-density applications with no significant impact to performance.
Hybrid assemblies allow integration of systems requiring connection from internal HD miniSAS to internal miniSAS.
Cable assemblies are available with or without sidebands.
Features:
MiniSAS HD (SFF-8087) form factor provides double the data rate while doubling the density when compared to 36P miniSAS (SFF-8047)
Thin, low profile allows more routing options within a case, and enables many packaging configurations
Foldable ribbon construction allows for extremely tight bend radii with minimal performance impact
Supports SAS 2.1 (6 Gbps) and SAS 3.0 (12 Gbps)
Meets or exceeds SFF-8643 specifications
Ribbon construction
Low profile
See also:
3M™ Internal MiniSAS HD to Internal miniSAS 36-Position Hybrid Cable Assembly, 8U Series (.pdf)