3M™ Active Optical Cable (AOC) Assemblies
for SFP+ Applications
This new Active Optical Cable (AOC) Assembly for SFP+ Applications compliments and builds on the family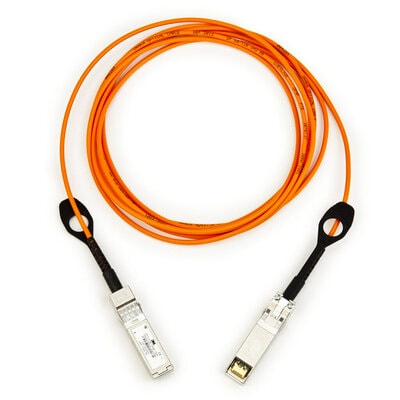 of AOC products released by 3M. The AOC assembly for SFP+ applications offers a single bi-directional channel operating at up to 10.3125 Gbps, using industry leading VCSEL technology and an advanced new light-engine design. Using advanced multimode fiber, this AOC delivers exceptional cost and performance value for high-performance computing and other ultra high-throughput networking environments at distances of up to 100 meters.
The AOC assembly for SFP+ applications uses a two fiber cable directly attached to optical modules at each end, removing the need for LC-type optical connectors along with their associated cost and handling requirements. Directly attaching fibers to the modules helps ensure that the length of AOC (up to 100m) delivered by 3M will operate with optimized optical and electrical performance for both 8 Gigabit Fiber Channel and 10 Gigabit Ethernet applications. The electrical interface is designed to support the SFF-8431 MSA standard for "plug-n-play" compatibility with a 10 Gigabit switch or adapter cards. The AOC also offers a full set of diagnostic features via the 2-wire interface allowing for detection of faults and other alarm conditions.
Features and Benefits
Low power 240 mW typical
1 channel operating at up to 10.3125 Gbps
Fiber link up to 100 meters
Reliable 850 nm VCSEL technology
0 to +70 degree Celsius operating temperature range
Hot pluggable
Bend insensitive fiber
Full set of diagnostic features
3.3 V power supply only
Supports SFF-8431 Specification for Enhanced Small Form Factor Pluggable Module SFP+
Supports Fiber Channel Physical Interface - 5 (FC-PI-5) Specification
Class 1 eye-safe per IEC 60825-1/CDRH
FCC Class B and CE Emissions and Immunity (EN 61000 4-3)
3M 2-year active optical warranty
RoHS Compliant
Applications:
High-performance computing clusters
10G Ethernet applications (10GbE)
4G and 8G Fiber Channel Applications (4GFC/8GFC)
1x InfiniBand QDR. DDR, SDR
Servers, switches, storage and host card adapters (NIC)
| | |
| --- | --- |
| Part Number | View Inventory |
| 6A11 3M AOC Assemblies for QSFP+ FDR Applications | |
See also:
3M™ AOC Assemblies for SFP+ Applications Sales Sheet (.pdf) - for more product information, specifications, applications and ordering information.
3M™ AOC Assemblies for SFP+ Applications Product Data Sheet (.pdf)