FCI Introduces Griplet™ Low Profile and
Compact IDC Terminal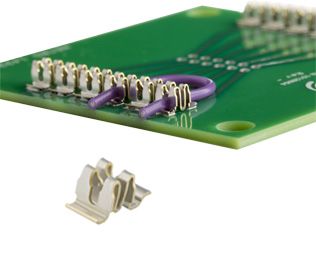 FCI's new Griplet™ connector offers a robust solution for miniature IDC Wire-to-Board connections. The low profile and compact design makes Griplet™ an ideal connector where space is tight and ease of installation is important. Each connector has a height of 3.7mm and a footprint of 4.0mm x 6.1mm.
Specially designed for a stackable pitch up to 12 positions, the common housings are available to secure and protect terminated components. Griplet™ provides a highly reliable connection, and is suitable in harsh and industrial market applications where direct connection between individual wires and PCB are required.
"The Griplet™ accommodates multiple wire sizes which reduces the total applied cost versus solder or crimp process" comments Fabrizio Stango, Commercial Portfolio Director at FCI. "And custom made housings are available for automatic pick and place processes".
Griplet™ connectors supports various wire-to-board applications such as industrial and instrumentation, automation controls, sensors, LED lighting, white goods and automotive.
| | |
| --- | --- |
| Part Number | View Inventory |
| Griplet™ Low Profile and Compact IDC Terminal 10127850-001LF | |
Features & Benefits:
Low profile / compact

Connecting discrete wire components directly to the PCB when space is a constraint
Bringing power and signals onto a PCB
Daisy chaining PCB to create continuous string of boards
Individual contacts can be located anywhere on the PCB

Four points of wire contact plus strain relief

Highly reliable connection
Enable harsh and industrial market applications with direct connection between individual wires and PCB

Accommodates multiple wire sizes

Reduced total applied cost compared to solder or crimp processes

Break-off carrier strip

90° bend allows easy break away and removal

Post applied insulative housings

Custom-made housing for automatic Pick & Place

Multiple Terminal Delivery Options: Singulated in bags, On Reel/ Continuous strip, Stitched on pitch within disposable Pick & Place carrier

Manual application or Vibratory Bowl application
Automated application
Customizable pitch
Applications:
Industrial & Instrumentation
Smart Meters
Thermostats
Automation Controls
Sensors
LED Lighting
White Goods
Automotive
See also:
Griplet™ Datasheet (.pdf) for more product information, specifications, applications and ordering information.