FCI BarKlip™ I/O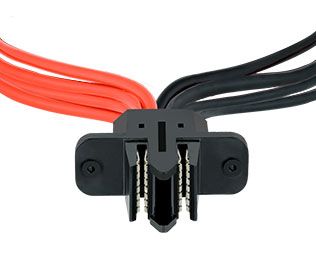 The BarKlip™ I/O connector provides a convenient method of distributing up to 200 Amps between busbars, cables and circuit boards. It features 14 fully independent cantilevered beams, providing a true compliant spring to adjust for variations in bus bar alignment and surface finish. The ultrasonic welding connection between the wire and contact increases efficiency and reliability for current transition.
The cable connects with system rack bar, a 3.0mm thick copper bar, to achieve a direct pluggable connection to an un-insulated busbar. This connection generates very low energy loss, with a maximum resistance of only 0.2mΩ per port.
In addition, the BarKlip™ I/O connector with <34mm installed height, facilitates performance in 1U rack-mounted equipment commonly found in datacenters and new hyperscale computing architectures.

| | |
| --- | --- |
| Part Number | View Inventory |
| 10125595-S01LF BarKlipô I/O | |
| 10125600-S01LF BarKlipô I/O | |
Features & Benefits:
Contacts with high conductivity copper alloy, 14 independent conducting beams and silver plating - Carry up to 200A/contact (30ºC T-rise in still air); Low contact resistance
Ultrasonic welding connection between wire and contact - Low voltage drop; High reliability
Housing with high temperature and Halogen-free resin - Wide operating temperature range of -40ºC to 125ºC; Next generation environmental requirements
14AWG-2AWG; Terminates up to four 8AWG wires - Supports different wire combinations with equal cross-section area for a wide range of power distribution requirements
Applications:
Communications: AC/DC pluggable power supplies in Telecom & Datacom, Networking equipment, Switches
Data: Servers, Storage
Industrial & Instrumentation: Hyperscale computing architectures using bus bars for power distribution
See also:
BarKlip Datasheet (.pdf) for more product information, specifications, applications and ordering information.